Andy Mack- Acoustic Guitarist, Band Member-Sometimes Elvis.......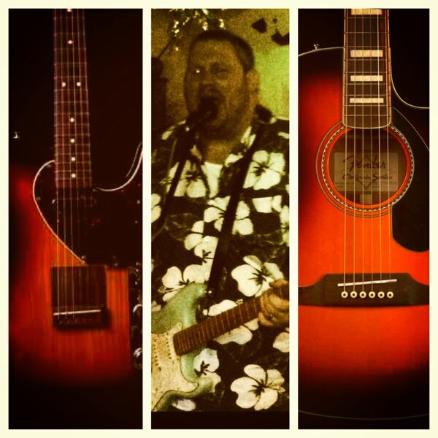 I have been playing guitar for as long as I remember. I love performing and I never take myself too seriously! I play everywhere from private parties (houses, gardens marquees) to pubs clubs and restaurants
I pride myself on tailoring my performance to suit the audience or venue- I do not have a style of music or a genre when I am playing acoustically and will always try and learn that special song, for any special occasion!!
As I have said I am very proud to state that I can play anywhere with just me an acoustic guitar and a small amp... I really do try to fit in wherever I play and take requests when I can.
One day I can be playing a country pub, next a nightclub, next a classy restaurant then I appear in someones back garden!!!!
And if you really feel like partying check out the FAT DRUNK ELVIS act on the links above!!!!!!! Elvis as you've never seen him before!!!!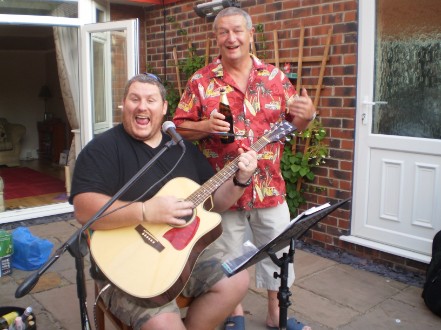 I literally perform songs from hundreds of artists and at last count had Oasis, Bon Jovi, Bryan Adams, Bruce Sprigsteen, Wham, Kiss, Tom Jones, Elvis,WHITNEY HOUSTON Rod Stewart, Stereophonics, Amy Winehouse, Kenny Rogers, The Smiths, Shawaddywaddy, John Denver, Green Day, Guns and Roses, Free, Goo Goo Dolls, Pink Floyd, Johnny Cash, Take That, Robbie Williams, Neil Diamond, The Beatles, The Stones, Squeeze, The Drifters, The Undertones, Eric Clapton, ABBA, ZZtop, Kings of Leon, Spandau Ballet, The Housemartins, Paulo Nutini, Lynyrd Skynrd, Jason Mraz, Slade, The Eagles, The Proclaimers The Monkees, Whitesnake, U2, The Fratellis, Frank Sinatra, Katy Perry, Creedence Clearwater Revival, The Coral , Bob Dylan, High Flying Birds
Testimonials
Thanks for music, it made a great contribution to a successful evening.
Very good intuative choices helped by my your "groupies" on the front row!

cheers,
Warwick
65th Birthday/ Retirment Party Buxton
---
Hi Andy
Just wanted to say a quick thank you for being part of our amazing day. Everyone had a ball and made lots of great comments about how much they enjoyed the afternoon outside with you.
Thanks again
Have a great Christmas and a fab 2013
Best wishes
Chriss & Ritch xxxx
Been meaning to write all week to say thankyou for Sunday - everyone enjoyed your performance. Thanks and
Emma
40th Birthday Party Wigan
---
Hi Andy,
Thankyou so much for playing at my party yesterday,everyone thought you were great,and your play list was just what I wanted.Thanks also for learning the Damien Rice song.
Kind Regards,
Jeannie
50th Birthday party Sale
---
"Plays our Barbeque Every Single year and never fails to impress and Entertain"
Joe and Oksanna- Mansfield
BBQ mansfield
---
"Was "one of the best nights ever" have been the comments after you left Andy. No idea what to expect and to be honest a few people were a bit scepticle at first.

We have some awesome pictures and videos of the night. Cant wait to see you back here on 3rd April and then St George's Day. Should be good (if you can learn some good England sing a long songs!!!).

I have had requests from people regarding booking you for Birthdays and a wedding so I think the crowd loved you!"
Jay (Landlord) The Black Dog Oswaldtwistle
---
"Thanks so Much for last Thursday- Everyone really enjoyed it-"
Jane ( Landlady) The Railway Hotel Parbold
---
"We Had a Fab day....You really lifted it up a notch and made us want to Dance"
Renee ( Baptism Malmaison Hotel Manchester)