Custom Unique S Style Electric Guitars

I LOVE GUITARS!!
I built my first Stratocaster Style Guitar about 5 years ago- I enjoyed it so much and did such a good job I carried and have made a few and sold them successfully on.

I have decided that If you would like one they are available to you for £700
Please contact me for details using the tab above.

I love the Vintage Relic look- and try to get this into my guitars- when I can I source quality second hard bodies if they are available- if not I use quality new parts from reliable suppliers.
As for the pickups - within reason this can be anything I can source...
The guitars you see on this page are the guitars I use to gig with THE CLAN - The Green Guitar has 14k Output twin rail humbuckers and is a BEAST of a guitar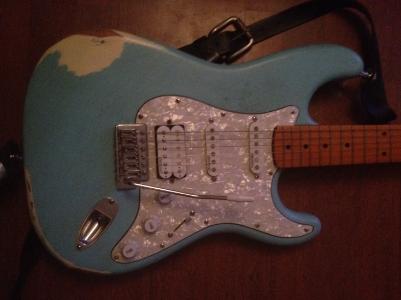 The Baby/ Daphne/ Lake Placid Blue affair is another of my regular guitars that I created- seen Fender versions using similar parts for £6000 !!

This FECKER Partsocaster has done many a gig for me- currently strung with 12s Strings its a BEAST !! but can still wangle the Fender tones from the neck!