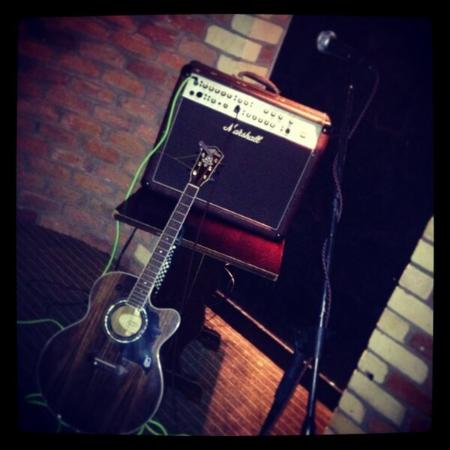 Restaurants Cafes Other!!
I love paying background music in restaurants cafes and other laid back establishments. Playing at just the right volume to hear but not to annoy diners or loungers.....
I like to play a large variety of tunes a these venues but at a laid back pace to please everybody! I use a minimum of equipment- a small guitar/ vocal amplifier a guitar and a microphone.
I have played all over the Northwest in various venues including, Duk Preston, Lamamma Standish, The Star Roby Mill, Malmaison Hotel, Village Hotels, Governors House Cheadle.
I use an array amplifier/ speaker PA system that takes up very little space and also looks very professional- the fishman SA220 is state of the art for live sound- excellent for any size venue!
YOURE IN CHARGE- you set the volume and everything- I am not the usual precious musician!!

I even accept residencies at venues and play every week if that is what you are interested in .
Please feel free to get in touch-.
Example Set List
Save The last dance for me - - Drifters/ Buble
HandBags and The Gladrags
May You never- Eric Clapton/ John Martin
Wonderful Tonight – Eric Clapton – Buble
You Belong to Me- Dean Martin- Buble
CannonBall - Damien Rice
Memories are made of this- Dean Martin
Mack the Knife- Sinatra/ Buble/ Martin
Bad Bad Leroy Brown- Sinatra
Sad Song- Oasis
Since I told You its Over- Stereophonics
My Happiness- Connie Francis
Love Me- Elvis
In the Ghetto- Elvis
She Wears it Well- Rod Stweart
Alberta – Bo Diddly- Clapton
Nobody loves you- Nina Simone
Angie- Rolling Stones
Better Together – Jack Johnson
Peaceful Easy Feeing- The Eagles
Lyin Eyes- The Eagles
Eleanor Rigby- The Beatles
I'll Be your baby – Bobby Darin / Bob Dylan
Imagine – John Lennon
Last Request – Paolo Nutini
Green Green grass of home – Tom Jones/ Willie Nelson
Time of our life- Green Day
Brown Eyed Girl- Van Morrison – Buble
Half the world away- Oasis (Royle family theme)
Sitting on the dock of the bay _ Otis Redding
Precious Time – Van Morrison
Bright side of the road- Van Morrison
Wonderwall- Oasis
Little Ole Wine Drinker me- Dean Martin